This is FF Chassis number 119/056 and was previously thought by the Jensen historians to be Mick Fleetwood's, when in actual fact it was Dave Walkers (Mick had a Blue Jensen CV8.)
He was in Fleetwood Mac from early 71 to mid 73.
Rockstarscars got in contact with Dave Walker over the phone, and spend a good ½ hour talking about this very car, and he went quite misty eyed about his old Jensen FF.
He even remembered the Registration number, and this photoshoot occurring with his pal John McVie.
Originally Crystal Blue, the car was White when Dave bought the car in the early 1970's, but after an accident he had the car repaired and repainted black with red coachline, which looks beautiful.
Being from the West Midlands, this was the best that Jensen had to offer, and had to have one, even then it was a rare sight in the 70's around Walsall, particularly for one so young.
[Dave Walker John Mcvie Jensen]
Dave Walker and John McVie photo taken in UK by unknown photographer around 1972
[Interior car shot]
He remembered that John Bonham and Ginger Baker also had them, but didn't know about Mitch Mitchells FF
As Fleetwood Mac relocated to the US, the Jensen and John McVie's Aston DB6 seen here were shipped over to the US,
He owned the car for many years, a rare sight on US roads, unfortunately the car was lost in a divorce settlement.
We hope to interview him in 2017.. watch this space.
The car was advertised for sale 21 years ago in California needing restoration
[SBU 55G]
Where is SBU55G now?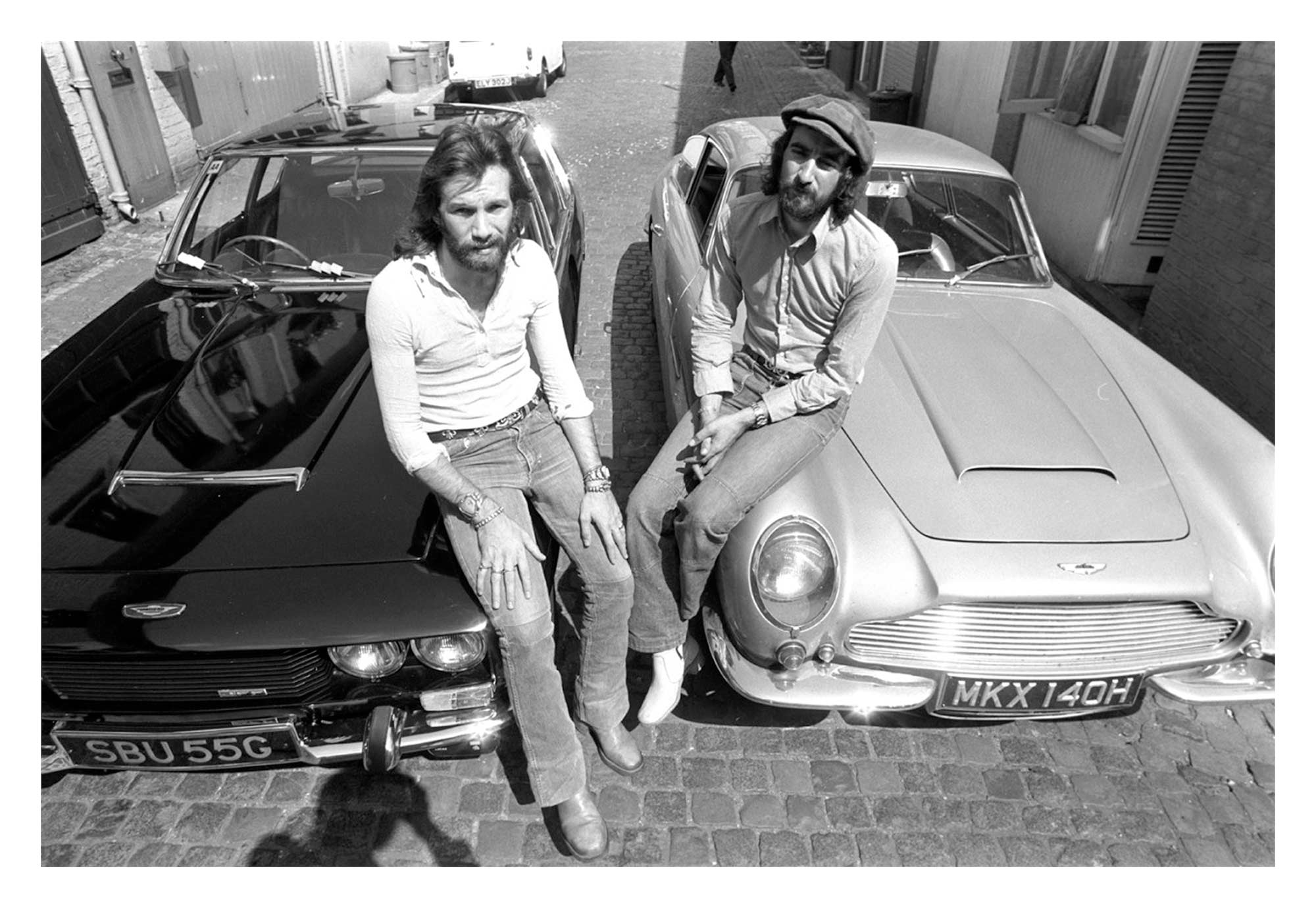 If you have a similar story, some old fan pics, or maybe you own an ex Rockstars car,please get in touch via info@rockstarscars.co.uk
We can't wait to hear you stories…
Here's  a taste of what we are doing at Rockstars Cars