Donovan
Donovan Leitch & his wife Linda have had owned some fantastic cars in their time, including Rolls Royces, Lotuses, Land Rover & Range Rovers, but Donovan's favourite will always be the Mercedes 300 SEL 6.3.
The car in its day was the flagship of the entire Mercedes range, and was the fastest genuine four seat car in the world. Donovan purchased the car in 1972 and it was mainly used for high speed trips from his then home on the Wentworth Estate in Surrey to the Hard Rock café in London, often at speeds of 100mph plus when the mood took him. It was often driven rapidly by Donovans driver, Stewart, who was Linda's brother.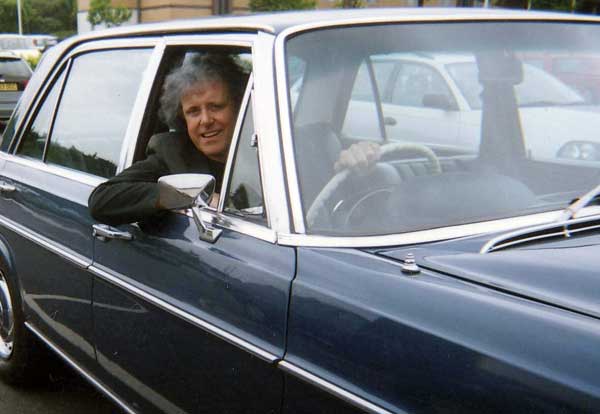 In fact most of Donovans time in the 6.3 was in the back, being wafted around with great aplomb by Stewart with famous passengers such as George Harrison and Bobby Whitlock amongst others. The car was also featured in a promotional video with Donovan where it is being driven down the Marylebone Road in London. After a few years Donovan passed ownership to Stewart, who then passed it on, after several years of spirited driving in her.
It is a miracle that JMO9K existed for it to be restored, as after Stewart it's had a harder life, especially as it was left outside in a field for approximately five years.
However, Steve Barratt took on the costly & lengthy process of restoring the car, sympathetically, to leave as much of the original character intact, but to make as much of everything else near perfect. Interestingly there is still a box of toothpicks used by Donovan in the glove box, and a 'cosmic wheels' sticker Donovan stuck on carefully preserved behind the drivers seat.
For more information on Donovan & his music and current performing schedule see: 
http://www.facebook.com/DonovanOfficial#!/DonovanOfficial?v=app_2344061033